Although many of our blogs focus on our carers and their career progression, we wanted to talk about the people who motivate them. We know that service users are a huge part of why our carers love the roles they do.
Carer Kim Gower said "I love being a carer because each visit I know I'm making a difference to peoples day, and put a smile on their face just by being there."
The difference that good care can make to service users cannot be overstated and we wanted to highlight that with Scott's story.
Our team met with Scott, one of our complex care clients in Falkirk. Scott receives twenty four hour care from us and lives in his own home with the help of the care workers. He has been a client for around twenty years and wanted to share his experience receiving care.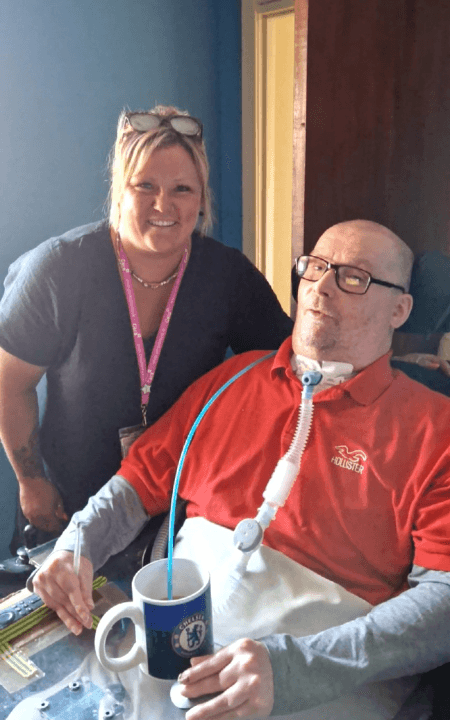 What were your first thoughts when receiving care?
My first thoughts were that I was quite scared and didn't know what to expect, but after around 20 years as a client I feel very happy and comfortable.
How does the support carers provide make a difference to your life?
The biggest thing is that care helps me to stay independently in my own home. I have built up good relationships with care workers (who I now consider more friends than carers), and that trust and bond keeps me in my own home with all my belongings and comfortable. I'm currently receiving a twenty-four hour care package which has been really beneficial.
What would you say to someone looking to get a carer?
It is hard sometimes to face the changes, but accepting that care is worth it when it keeps you in your own home. Like anything it takes time to adjust, however you know you are respected and your needs and wishes are accommodated. They really listen and like I said before, the carers become your friends over time.
What are your thoughts on Cera?
Cera has been great. It runs smoothly and I always know who to go to if I have any issues. There's a real continuity of care in my package that makes me feel safe and supported. Potential care workers are invited to meet us as clients prior to coming on board to see if we bond. It's just really nice that I get to feel involved in my own care.
With branches across the UK, you could be working with incredible people like Scott as part of our family. Check out or branch locator to discover your nearest here.
If you're interested in becoming a care professional with us, click here to view current care jobs. Alternatively you can view our internal support office team jobs here.