A career as a community carer can be incredibly fulfilling, both personally and professionally. As a social care professional, you will have the opportunity to make a real difference in the lives of those who are most vulnerable in our society. Whether you are providing elderly care, supporting those with disabilities, or working with children, community care work requires compassion, empathy, and a deep commitment to helping others.
We know that not everyone moving into the care sector will necessarily have the professional experience to get started immediately which is why at Cera we provide shadow shifts and full training to give our new starters the confidence to carry out their roles.
Through partnerships within local communities, our branches are able forge real connections with potential staff and change the lives of those looking for work, even if they might not have known care work was an option for them.
One of our partners, Michelle, a DWP work coach, shared a story from the Dunbar jobs fair, which took place earlier this month.
"When Anne-Marie came to Dunbar jobs fair and spoke to me, she was really nervous and didn't know what to expect. She had only ever worked in retail and was desperate to get back into work. I chatted with her for a while and found out about her previous experience and then we got chatting about her personal life and she confided in me about caring for elderly family members.
This led on to a chat about the prospect of working with the care sector.
Kayla from Cera was at the jobs fair, and I have built an excellent relationship with her over the past few months as a result of her presence in the job centre. I had a chat with Kayla before bringing Anne-Marie over, just to set the scene in terms of her being nervous."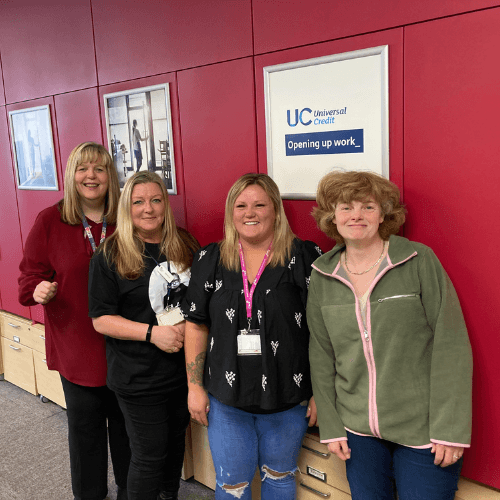 Kayla said:
"Although Anne-Marie was nervous, I could see she was keen and we decided to interview her there and then to see if she was suitable. After getting a better understanding of her skills and past experience, I was confident she would be a fantastic fit for a role in care.
I was pleased to offer her the role immediately and her reaction and excitement was just part of why I really love doing this job!"
Michelle added:
"When Anne-Marie came back over to me after speaking to Kayla, she was absolutely buzzing and quite overwhelmed, but in a really good way! She was really grateful for the opportunity that she was given and the options proposed to her that she had never considered before.
I saw Anne-Marie again today and she is absolutely delighted with this new career path. I know that both Kayla and I are really proud of how we have literally changed her path for the better!
This is a great demonstration of outreach, partnerships working, and how we are able to support our 50+ customers to find fulfilling opportunities!"
Anne-Marie said:
When I got offered the job with Cera I did my interview the same day which was amazing as I wasn't expecting it. I started my training about two weeks later, so it was a really quick turnaround.
When I arrived at the office for training I was introduced to Alan who was conducting it and met other people who were also training there too. I was really nervous, but once Alan started going over everything I started to feel at ease.
I am really glad I decided to change my career and take it in a different direction by going in to care work. During training I have learned so much more about the job and what it involves so I am more prepared too. My experience looking after family before their passing also gave me the courage to try something new.
Thank you to Michelle, Kayla, Alan and everyone involved for giving me this opportunity. It's a rewarding job doing our bit for the welfare of the elderly and infirm.
At Cera we are excited to welcome Anne-Marie as a new carer and hope she will spend many years with us, enjoying the rewards working in care can offer.
With social care being an ever growing industry, and plenty of opportunities for career advancement and professional development, we know it's a career like no other. Our teams ensure that Anne-Marie and all new carers with us, gather valuable experience in a variety of settings and open doors for them into other roles if that's something they're interested in.
A career as a community carer can be a life-changing experience, providing you with the opportunity to make a meaningful difference in the lives of others. If you have a passion for supporting people to live independent lives in their own homes, or are looking for a flexible local role in the community, care work may be the perfect choice for you.
With branches across the UK, your career in care might be close than you think. Check out or branch locator to discover your nearest here.
If you're interested in becoming a care professional with us, click here to view current care jobs. Alternatively you can view our internal support office team jobs here.