Career Progression: Care Assistant to a career in Nursing
If you are looking to start a career in Nursing, being a Care Assistant is a great way to gain relevant experience. You will have exposure to caring for people with a variety of needs and huge amounts of practical experience throughout your progression journey.
Being a carer will also aid you in developing a great "bedside manner" and learning the importance of individual care needs. You can also develop your skills with additional training to provide clinical/complex care such as wound management, maintaining ventilation, catheter care and feeding support.
The good news is that there are very few entry barriers to becoming a carer and once you have some experience, there are structured progression plans available to move on to formal nurse training - including a learning and development pathway here at Cera!
Lindsey Appleby-Flynn, Learning & Development Programme Manager for Cera says:
"from no experience to becoming a qualified nurse would take about 6 years through our pathway, and unlike taking the traditional journey from school into university, with this route you are getting a wealth of work experience, earning a living and will have no student debt at the end of it."
The Cera Nursing Career Pathway
In 2021, Cera launched the first Nursing pilot programme, which involved a group of our carers qualifying to become Nursing assistants. From here, individuals can progress to Nursing Associate and then onto training to become a qualified Nurse. The process involves completing formal qualifications alongside their role as a carer under our clinical care services and the programmes work in partnership with accredited Universities.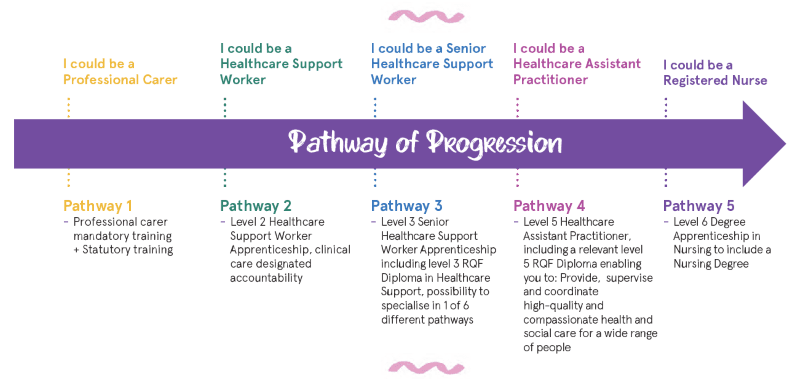 The progression pathway highlights the key stages a carer would go through to become a Registered Nurse. Currently, Cera are expanding the amount of Clinical care contracts we have nationwide to ensure we can offer this progression opportunity to as many carers as possible.
If you are interested in starting a career in care, with a view to progressing into a nursing role, search and apply for a care job with Cera today.